Nothing brings the joy to my heart after a nine hour flight from Europe than to look up at the departure screen at Chicago's O'Hare airport for my connection home and see "Flight Canceled".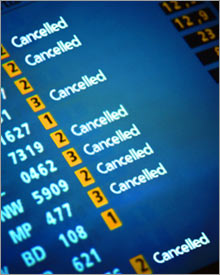 That happened today, and so I'm spending at least another 3 and 1/2 hours in the airport. Luckily I'm at the American Airlines Admiral's Club, so I can at least get some work done in relative peace. "Relative" is the key word there because they're doing construction and every once in a while I hear a loud banging.
I only have so many options when I'm stuck in Chicago like this on the way home. Once or twice I've rented a car and driven the 600 miles. This is a not a feasible option if the weather is really bad, especially if it is snowy or icy. However, this is preferable to waiting on standby for flight after flight. At least I'm moving.
Another option is to fly somewhere else and then rent a car and drive home. In order of closeness, that would be Buffalo, Syracuse, and Cleveland, with the first being about an hour from my home and the last being about four hours.
I suppose Pittsburgh would also be an option, but I've never been there and on the map there looks to be a lot of the Allegheny mountains between that city and my house. That is, I think the trip would take longer than I would wish.
Starting next week, my daughter will be a student at the University of Chicago. That will supply another option, which is to stay over in Chicago and pay her a visit. In fact, I'm planning to do just that in a few weeks on my way to South Africa for the ODF User's Conference. That will be on purpose, of course, though given the frequency of delays and cancellations at O'Hare I may be seeing her more than currently planned. At the moment, at least, she says that's ok.
By the way, it seems to be perfectly fine to use either the form "canceled" or "cancelled." I prefer the one with two l's but I'm trying to use the shorter version since that seems more common.